History was made as Virgin Voyages – Sir Richard Branson's multi, award-winning cruise line – sailed into Sydney today ahead of the highly anticipated inaugural summer sailing season.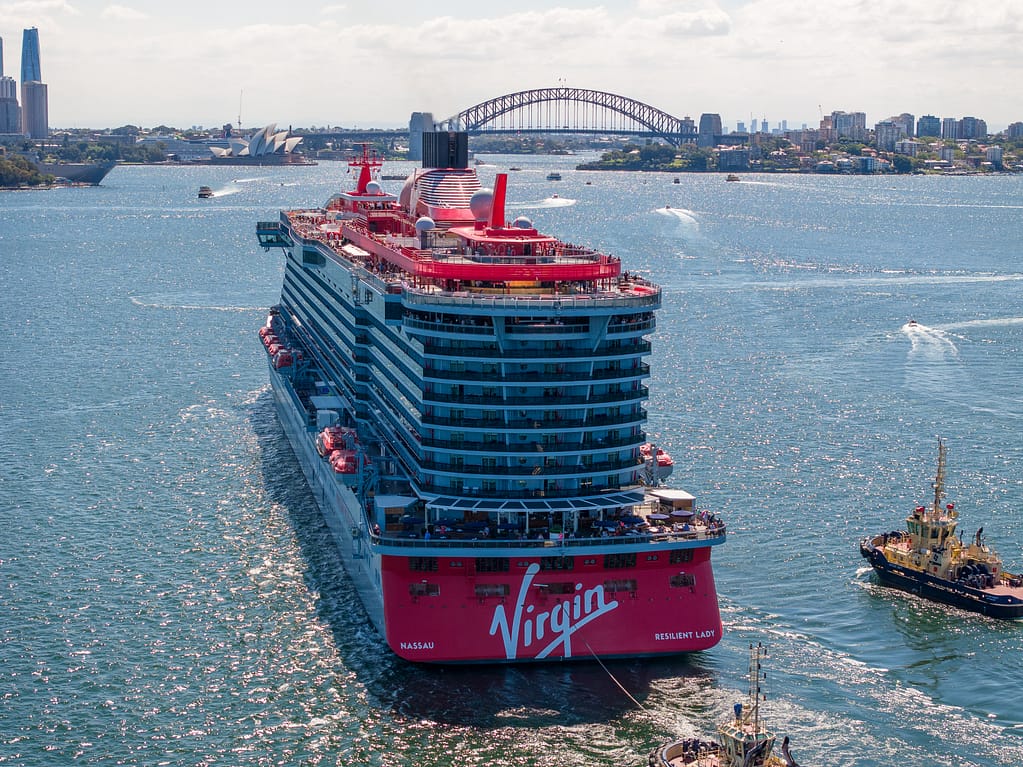 Resilient Lady  made her grand entrance into Sydney Harbour at 1 p.m. (Sydney time) where she received a spectacular welcome from Sir Richard Branson. The Virgin Group founder met the superyacht-inspired cruise ship in a classic wooden speedboat as it sailed through the Heads. 
Sir Richard Branson then took his Aussie welcome to new heights and scaled the Sydney Harbour Bridge in an exclusive, Virgin Voyages takeover of the iconic BridgeClimb experience.
From the summit of the bridge, Sir Richard Branson welcomed Resilient Lady to Circular Quay as she pulled into the Overseas Passenger Terminal for the first time. Excited Sailors lined the decks of the exclusively-adults ship to wave to Branson above and take in this iconic moment.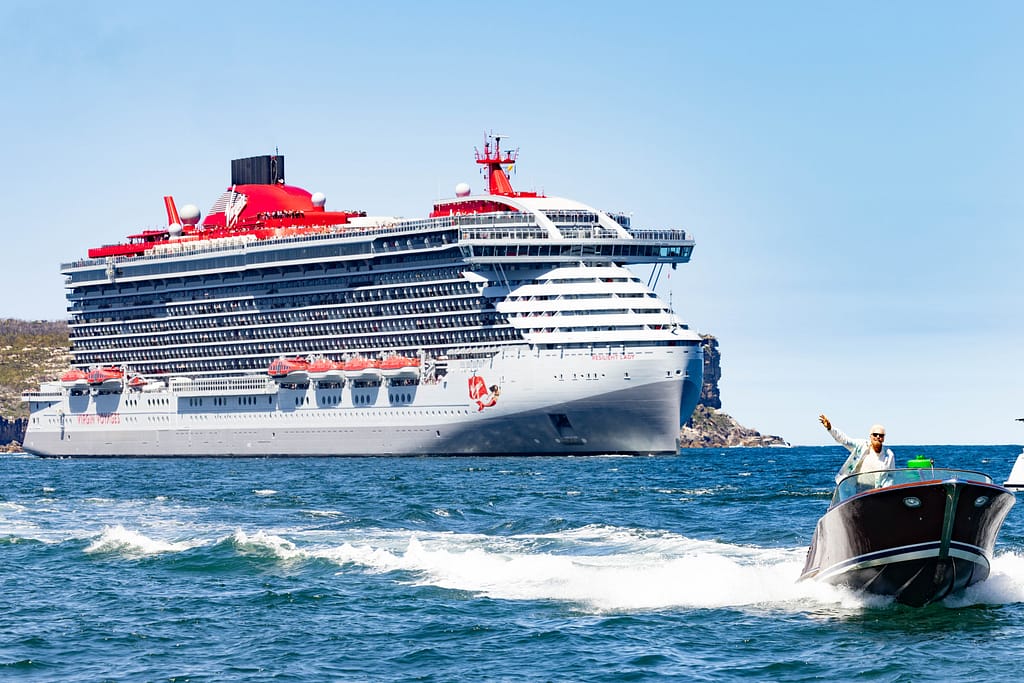 Virgin Voyages is the first travel brand in the Virgin Group to enter the Australian market since Virgin Australia (then Virgin Blue) launched Down Under in 2000.
Helicopters and drones circled the skies above to capture the incredible moment that encapsulated Sir Richard Branson's pioneering spirit and the Virgin brand's flair for creating iconic moments. It made Resilient Lady's debut to Sydney a truly unforgettable welcome against the backdrop of one of the most liveable and scenic cities.
Speaking about this historic occasion, Sir Richard Branson said,"Sydney is one of my favorite cities in the world, and we wanted to ensure our arrival was as spectacular as the Sydney Harbour itself. To stand at the summit of the Sydney Harbour Bridge and watch Resilient Lady come into Circular Quay was one of the most exciting moments since we founded the Virgin brand." He continued, "Australians' loyalty to Virgin brands over the years has been testament to the thousands of people who make Virgin what it is, and we know you're going to love Virgin Voyages, the latest brand to come Down Under. We are now less than one week away from our Aussie MerMaiden voyage, and we can't wait to welcome Sailors aboard our ship where they will have a blast and experience our unique approach to cruising with the very best food, wellness, entertainment and fun."
Virgin Voyages CEO, Nirmal Saverimuttu said, "Australians love to go on holiday, and they've shown how much they love cruising. We're excited to make our mark here in Australia with the newest ship in our fleet. We celebrate being different, and it's why we decided to push the envelope and do things in a fresh and exciting way. Richard challenged us to create a cruise line he'd want to take his mates on, and we've succeeded." He continued, "We have some incredible destinations lined up for our first summer sailing season including Sydney, Hobart, Burnie along with other brilliant ports of call in New Zealand like Auckland, Wellington, Napier and Picton."
Destination NSW CEO, Steve Cox said,"We are thrilled to welcome the striking Virgin Voyages Resilient Lady on her maiden arrival into Sydney, the nation's premier cruise gateway. Cruise is such a vital contributor to the visitor economy of NSW in terms of on-shore passenger spend, supply chain jobs and provisioning services. We are delighted that Virgin Voyages is offering its 'Sailors' unforgettable experiences when they go ashore in the Harbour City and look forward to many more port calls into the future."
Virgin Voyages is set to redefine cruising in Australia with its unique offering for Sailors. As the only major cruise line explicitly designed for adults – encompassing everything from high-end design to chic wellness amenities – Virgin Voyages has been awarded the No.1 large cruise line in Condé Nast Traveler's 2023 Readers Choice Awards. With every voyage offering Michelin-inspired dining experiences, awe-inspiring entertainment and rejuvenating wellness experiences for guests to relax and recharge, Virgin Voyages caters to seasoned cruisers while captivating the cruise-curious and skeptics alike.
Resilient Lady will spend two nights in Sydney before heading south to Melbourne, her new homeport for the summer cruising season. On Dec. 11, the ship sets sail on her Aussie MerMaiden voyage to Tasmania, stopping over in Burnie and Hobart. For more information on Virgin Voyages, visit www.virginvoyages.com, or follow Virgin Voyages on social media @virginvoyages.
Source: Virgin Voyages Media
Images: ©2023 Virgin Cruises Intermediate Limited