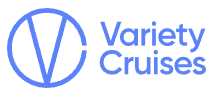 Go deeper with our sustainable small boat cruise adventures – since 1949.
Small boat cruises have been a part of our DNA since 1949, so let us take you by the hand and show you the world the Variety Cruises way.
Go deeper into the world on board our sustainable, immersive, destination-driven small ship adventures, with safety and comfort at heart. All while making friends with a handful of diverse guests, experts, and our family.
Welcome… to a better world at sea™.
OUR PILLARS
'To travel is to immerse yourself' – VARIETY CARES™ is a creative non profit foundation that ties together a like minded community of worldwide travelers who share the notion that 'to travel is to immerse yourself, with the destination and her people at heart. Our three guiding principals are:
CLEAN OCEANS 4ALL
Our ocean is the natural playground that keeps us alive and allows us to experience the world at its most beautiful pace. We owe it our love.
GENDER EQUALITY 4ALL
Gender equality means human equality; from women empowerment to accepting our gender spectrum differences we create a stronger world for all.
EDUCATION 4ALL
The world is a book, and those who do not travel read only a page. Join us as we share our love for education with youth worldwide lacking access to such.
Fleet
Website
Holiday Cruises | Variety Cruises
Phone
0208 3243114
Email