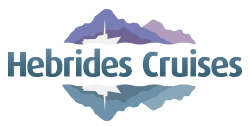 Sustainable Wildlife Cruising on the West Coast of Scotland since 1996
Hebrides Cruises is a family-owned and run business based in Oban on the west coast of Scotland, offering wildlife cruises to the islands of the Inner and Outer Hebrides, and St Kilda since 1996. The family team of Rob Barlow, his daughter Emma Fairbairns and son-in-law James Fairbairns is supported by an outstanding team of colleagues, expert in seamanship, the natural environment, and hospitality. Everyone involved with Hebrides Cruises has a deep passion for the conservation and protection of the marine and other wildlife of the west coast of Scotland and together they provide an exceptional cruise experience for their guests.
Hebrides Cruises CEO and Skipper Rob Barlow, has spent all his working life at sea and especially loves to hand-dive for scallops to serve to guests. A qualified engineer, and a former member of the Tobermory Coastguard team, Rob has 30 years experience of running small-ship cruises and charters around the West Coast of Scotland.
Emma Fairbairns is Shore Manager, provisioning the vessels for each cruise. She is also responsible for sales and customer care. Emma communicates with guests from the first point of enquiry until they disembark their cruise, ensuring their time with Hebrides Cruises is the best it can be.
James Fairbairns is Hebrides Cruises General Manager, while also well qualified as Skipper of Emma Jane. His ability to locate all types of wildlife and pass on his knowledge to the guests onboard is legendary. His photography and video skills help capture the amazing encounters that our guests experience.
Four crew on each vessel reveal the huge diversity of wildlife and stunning scenery to our guests while providing the best of highland hospitality; the food served onboard is of gourmet standard. Our Skippers, Wildlife Guides, Stewards and Chefs are the best available. Hebrides Cruises has the highest crew-to-guest ratio in Scottish small-ship cruising at 4 crew to 8 or 10 guests. Our three vessels, offer ocean-going luxury; Emma Jane and Elizabeth G, have been carefully upgraded to offer luxury ensuite accommodation while Lucy Mary was built as a luxury yacht.
Protecting the marine environment
Hebrides Cruises is passionate about protecting the natural environment, in the beautiful areas in which our vessels operate, and are WiSe accredited. The Wildlife Safe Scheme (WiSe) is the British standard for wildlife watching. It provides training and accreditation for wildlife cruise operators and many other types of craft. The scheme advises operators on how best to view and interact with marine wildlife while minimising disturbance. In 2017 Rob was awarded the Gold WiSe Standard at a WiSe 'Masters' Course Read more about Rob's WiSe Gold Standard Award here>
We are very proud to have been closely associated with the development of the Hebridean Whale and Dolphin Trust (HWDT) "Whale Track App" followed by testing the App on board our ships prior to its launch. In October 2018 we were very pleased to support the work of HWDT by becoming a Corporate Partner.
In January 2022, the company was delighted to achieve the Green Tourism Gold level of the award at the first assessment. This excellent initiative not only recognises our commitment to sustainable tourism but helps us achieve our own aims as a high-quality sustainable tourism organisation. We aim not only to leave no trace of our journeys but also proactively help the environment by picking up any dangerous waste we come across and taking part in research on the rare species which inhabit these waters.
Fleet
Website
Scottish Wildlife Cruises | Hebrides Cruises
Phone
01631 711986
Email