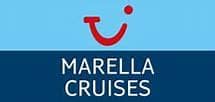 At Marella Cruises, we've got plenty of top-quality cruise deals to suit every budget. Our itineraries showcase some of the world's must-see locations, from sandswept islands in the Caribbean Sea to skyscraper-filled cities in Far East Asia. And, all of our cruises are All Inclusive, so flights, transfers, food, drinks, tips and service charges are all sorted. We've got five top-of-the-line ships for you to choose from. On the family-friendly Marella Discovery and Marella Discovery 2, you have a rock-climbing wall, an outdoor cinema and two pools. Meanwhile, Marella Explorer and the adults-only Marella Explorer 2, count a Prosecco lounge, a glamorous spa and a nightclub-meets-casino among their highlights. Our newest ship to the fleet Marella Voyager pairs its double-digit dining scene and top-notch show lounge with stops at some of Europe's must-see destinations. Regardless of which ship you're on, you can expect plenty of bars, restaurants and West-End-worthy shows, as well as Marella Cruises' signature first-class service.
Fleet
Marella Voyager (Inaugural Cruise November 2023)
UK Website
Marella Cruises | Cruise Holidays 2023 / 2024 | TUI.co.uk
Telephone
Enquiries: 0203 636 1862
Shore Excursion Enquiries: 0203 451 2728
Finishing Touches: 0203 451 2695
To pre-book your cabin: 0203 451 2682
Surprise at Sea: 0203 451 2963
Port Parking: 0871 230 2800
Marella Memories: 0203 636 1439
Weddings and Renewal of Vows: 0203 451 2716
Assisted Travel: 0203 451 2688
Calls from UK landlines cost the standard rate, but calls from mobiles may be higher. Please check with your network provider.
Email
Shore Excursion Enquiries: cruiseexcursions@tui.co.uk