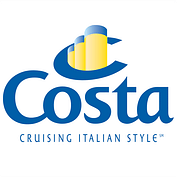 For 70 years Costa Crociere has embodied Italian style and hospitality. We have always made it our business to introduce our guests to the world's most stunning places, giving them the chance to explore various destinations and discover different cultures on five continents with showing complete respect for their diverse identities. As the only cruise company flying the Italian flag, it is our responsibility and duty to act as an ambassador for Italian values in the world and to represent our country at our ports of call. At Costa responsible innovation is a key factor when we design the ships of the future and develop the on-board experience, a process carried out with maximum attention to detail in order to offer a holiday geared towards discovering local cultures and experiencing them as responsible travellers.
Almost 75 years since our first voyage with the Anna C on 31 March 1948, from Genoa to Buenos Aires, we are still going and still travelling the world's seas today with the Italian flag proudly flying above our heads. We have lots of stories to tell: one for each of our ships. The Franca C, for example, was the first ship in the world to be built for cruises. The year was 1957. Over time the designs, sizes and decor of the ships have changed, and balconies have been introduced to the majority of cabins. The tastes and requirements of passengers have evolved but our values have remained unchanged: we are committed to our customers.
This is why we have plotted a course that regards innovation and sustainable development as the foundation for our future. For this reason, we strive to minimise the impact we generate on the destinations we visit with you.
Fleet
UK Website
​​Costa Cruises | Dream Holidays & Trips 🛳️
Telephone
Cruise Information/Reservation: 0800 3890622
Email
Cruise Information/Reservation: info@uk.costa.it