Celebrity Eclipse; here we come!
Another one to look forward to. It's a return to Celebrity Cruises and a return to a ship from which we have so many great memories of our Australia trip in November 2022.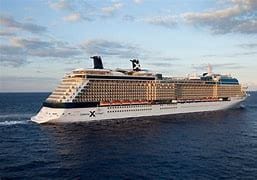 About Celebrity Eclipse
Luxurious and upscale on every deck and at every turn, she sets the standard for modern-day vacations. Take your taste buds on an adventure with diverse dining choices. Enjoy endless entertainment options. Take a yoga class in the Fitness Center. Whatever your travel style, you'll find your home on board.
Itinerary
Day 1 – Flight to Boston, Massachusetts, overnight hotel stay
Day 2 – Boston, Massachusetts
Day 3 – Embark Celebrity Eclipse
Day 4 – At Sea
Day 5 – Royal Naval Dockyard, Bermuda
Day 6/7 – At Sea
Day 8 – Willemstad, Curacao
Day 9 – Oranjestad, Aruba
Day 10 – Kralendijk, Bonaire
Day 11/12 – At Sea
Day 13 – Disembark Fort Lauderdale, Flight to UK
Day 14 – Arrive UK 😒
More details to be added nearer to the time, it is well over a year away!
What Celebrity say about themselves:
Celebrity Cruises exists because we believe in opening up the world.
We know that travel makes us better—every one of us.
We're here to help vacationers understand the value of travel.
Our cruises encourage people to sail beyond their own borders and expand their horizons.
 Our iconic "X" is the mark of luxury, the mark of contemporary spaces that are at once coolly sophisticated and warmly inviting.
Where the culinary experience is influenced by global cuisines and designed by our Michelin-starred chef.
Where our staff provides seamless and intuitive service that's both personal and unobtrusive.
Where everything is designed to provide an unparalleled Relaxed Luxurysm resort at sea experience.
Our fifteen award-winning ships offer unique experiences in more than 300 destinations on all seven continents. We're Celebrity Cruises, and the world is open.