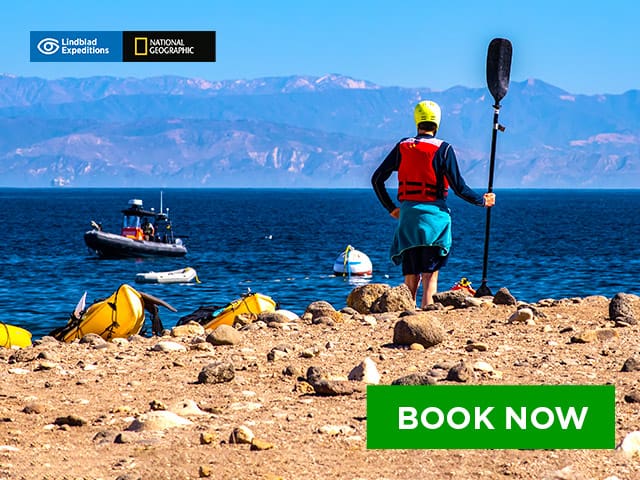 For nearly 50 years Lindblad has been revealing the world's wonders to guests through expedition style travel. Lindblad gets you "out there," on nimble expedition cruise ships, accompanied by expert Naturalists and other specialists, including National Geographic Photographers, for life-changing encounters with beauty, wildness and the seldom-seen.
Lindblad Expeditions Overview
When Lars-Eric Lindblad set out with the first groups of expedition travelers in the late 1950s, he was following his passion to discover unknown places and to share the unique cultural and environmental aspects of these places with others. Today Lindblad Expeditions is focused on finding creative ways to explore the places already discovered. Their growing fleet of small expedition ships, Zodiacs, sea kayaks, onboard naturalists and underwater cameras are all examples of how Lindblad continually strives to help open the eyes of guests when it comes to truly exploring.
Lindblad Expeditions Ships
Life aboard one of the expedition ships is enjoyable. After a day of exploring, relive the day's events in comfort with like-minded guests and onboard naturalists. Lindblad has 2 expedition ships sailing Alaska, each with unique features including accommodating public and private spaces, posh libraries, and lavish observation spaces.
Lindblad Expeditions Destinations
Lindblad Expeditions takes their guests to some of the most beautiful and fascinating places on Earth. They're places we've been going to for decades, yet they continue to surprise and delight us. Their fleet of small ships offers a unique way for adventure travelers to explore and care for the world. Their expeditions are active adventures, engaging the mind and body. They explore with Zodiacs, kayaks and on foot, taking their guests to remote beaches and hidden coves, going further and getting closer to nature and wildlife.
Lindblad Expeditions Accommodations
All cabins face outside with windows or portholes. Each has private facilities and climate controls.
Lindblad Expeditions Dining
Dining on board is excellent. Gary Jenanyan, Executive Consulting Chef, frequently travels to each of Lindblad's ships, coaching chefs to be certain each meal is prepared to perfection. Full buffet breakfasts, casual lunches, and leisurely dinners are served in comfortable dining rooms, on deck or even ashore on a remote beach.
Lindblad Expeditions Kids & Teens
Lindblad Expeditions does not have a dedicated Children's Program.
Lindblad Expeditions Onboard Activities & Entertainment
Travelers choose expeditions for their adventurous aspects. However, once on board, they discover that ship life affords a double dose of something we all need these days: comfort and ease. Lounges and dining rooms become social hubs. The libraries are a refuge for the more solitary, and observation spaces on deck are perfect spots to make new friends. Fitness centers and massage treatment rooms offer options to be rigorous, indulgent or both. Onboard style is always informal. There is no assigned seating at any meal, and no dress code. Casual clothes and casual attitudes, mixed with curious travelers and intelligent conversation combine for an exceptional expedition.
Lindblad Expeditions Past Guests
Lindblad Expeditions does not have a Past Passengers Program. What are you waiting for? Start planning your Lindblad Expeditions cruise vacation today. You can book online or call us to speak to one of our Cruise Specialists.
Fleet
National Geographic Endeavour II
National Geographic Islander II
National Geographic Resolution
Website
Lindblad Expedition Cruise Deals on LindbladCruises.com
Phone
US – 1-877-872-8154
Email