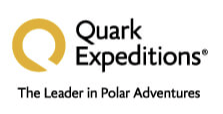 The Best Team
When you venture into the untouched wilds of the Arctic and Antarctic, you need a great team around you. And we have the greatest. You'll join elite guides trained at Quark Academy—which surpasses every standard imaginable for safety and preparedness in the Polar Regions—and interact directly with world-class polar experts. Our philosophy? The team that explores together, discovers more together.
We Take You Deeper
Quark Expeditions goes where others simply can't. Or won't. But our expert guides' abilities to read unknown terrain means where there's a will, there's a way—and that way could be by kayak, Zodiac boat, helicopter, or even hot air balloon. In an environment so unpredictable, it pays to have a few backup plans. We don't just expect the unexpected, we embrace it.
Most Innovative Itineraries
We've been pioneering new types of expeditions into the Polar Regions for over 30 years now. We not only offer the most itineraries, but the most varied as well. Regardless of where you venture, you can explore culture, wildlife, science, physical activity, and more. To put it simply: More places to explore, more ways to explore them.
The Most Adventure Activites
Every voyage starts on a ship, but the real adventure happens off-ship. In the polar wilds, we camp, kayak, mountain bike, hike and fly by helicopter to remote locations. We paddleboard on icy waters, and rise above the polar landscape in hot air balloons. With the most adventure options available, how you experience the Polar Regions is entirely up to you.
Small Ships
When it comes to polar expeditions, you're only as good as where your ships can take you. And our diverse fleet of small polar vessels, which includes icebreakers and expedition ships, can take you to places larger ships can't navigate. Equally key is our fleet of Zodiac boats, which let us make landfall where others are not able.
Trust us: when you travel all the way to the edge of the world, you'll want to reach out and touch it too.
Fleet
Website
Arctic & Antarctic Expedition Cruises | Quark Expeditions
Phone
0808 2589039
Email