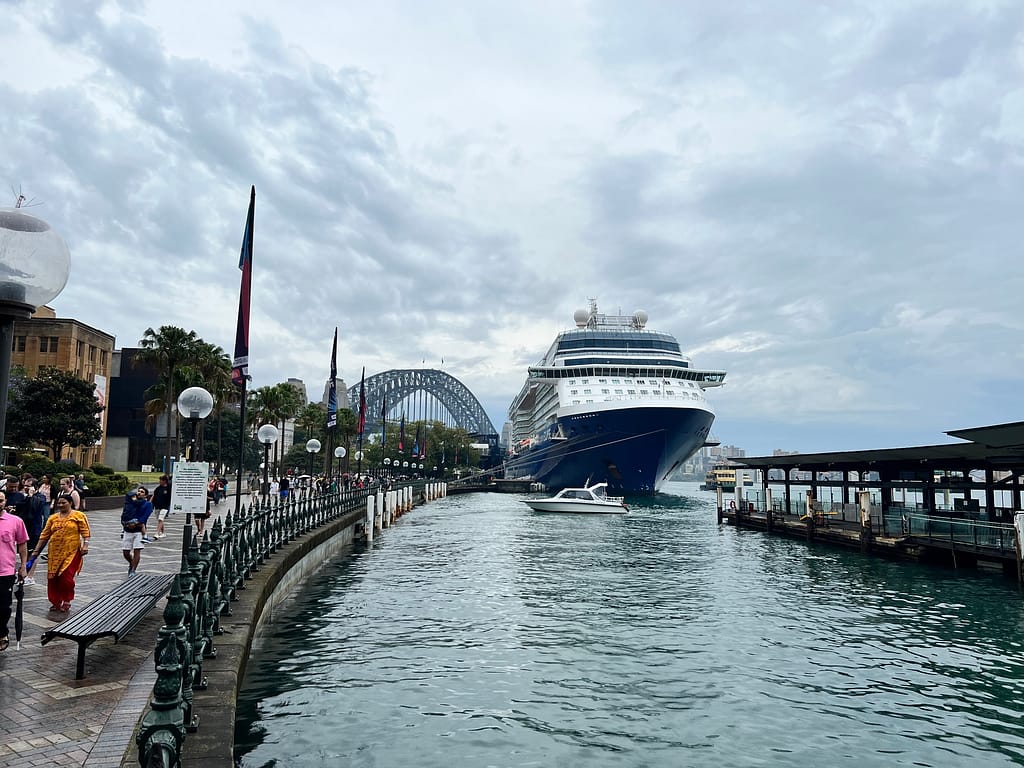 This was on our 'bucket list', not least because we have a niece in Brisbane and a nephew in Sydney who we haven't seen for quite a few years. We had the added bonus of meeting up with our lovely cruise buddies, Colin and Janet, who we met on a previous Celebrity cruise.
We booked the cruise directly through Celebrity including the flights. This just left us to find accommodation for 2 nights in Sydney.
The outbound flight was of course incredibly long with a 3 hour stopover in Dubai. The flights with Emirates were good but 'cattle' class is not recommended if you can afford anything better. This is simply because of the room you have at your seat, at 6 ft 1 in I found it very difficult to get any meaningful sleep on the 23 hours journey. At least I was going on holiday and had that to look forward to, already not looking forward to homeward bounders!
We chose our accommodation in a suburb of Sydney called Woolloomooloo with our hotel called the 'Mariners Court Hotel'. This was a former sailors rest which appealed to me as I am an ex sailor myself. It was reasonably priced, comfortable and a good walk through the parks of Sydney to the harbour and city area.
After a good two days, with sleep being caught up on prior to the cruise, it was time to venture to Sydney Harbour to join the 'Eclipse'. The boarding was a nightmare caused by the late arrival of the ship from her previous cruise in New Zealand. Bad weather had delayed them meaning that those waiting to board for the cruise were left milling around the harbour area with luggage and increasing anger. The port authority staff were in all honesty really poor, with one even being verbally rude to us and other passengers. To cut this story short, Celebrity knew this whole saga had fallen well below their expectations and for those that were willing to give feedback (not a complaint!) they were given Future Cruise Credit and their apologies. Apologies accepted!
Next step was to meet friends and let the cruise commence with sail away.
Itinerary
Day 1 – At Sea
Day 2 – At Sea
Day 3 – Willis Island (Cruising)
Day 4 – Port Douglas
Day 5 – Cairns (Yorkeys Knob)
Day 6 – Airlie Beach
Day 7 – At Sea
Day 8 – Brisbane
Day 9 – At Sea
Day 10 – At Sea
Day 11 – Sydney (overnight)
Day 12 – Sydney (and return to UK)
The Ship
Our second cruise with Celebrity, with our first being on sister Solstice class ship 'Reflection' for a Caribbean Cruise a few years before. Quite rightly they advertise themselves as 5* and are often referred to as 'boutique' ships.
Very well looked after, she was clean and tidy, with all areas of the ship fully operational with all the usual areas you would expect of Celebrity.
The Crew
As always on cruises, the unsung heroes (other than the visible crew members such as the captain, cruise director etc) are the crew, from the cabin stewards, chefs, cleaners, bar staff, I could go on. It is often easy to gauge a ship by its staff and Eclipse seemed a happy ship.
Accommodation
We went with a standard balcony cabin which was of a high standard and well kept by our excellent steward.
Food
We only frequented the main restaurant in the evenings and the 'OceanView' cafe for breakfast and lunch, except for one night when we were invited to 'Blu' with friends. No complaints about the food from us, plentiful, well made and a good varied choice throughout the cruise.
Bars
Important to us as we absolutely love the 'Martini Bar'. This makes us pre-book the elevated drinks package but in our view it is worth it. The 'Martini Bar' is one of the social hubs of the ship and would be the start and end of most of our evenings onboard. TOP TIP – worth tipping one of the waiters early in the cruise, they remember and will be attentive to your needs. Our favourite was 'Ralph', he was so much fun and got more than one or two tips from us but that's the game I suppose, money well spent.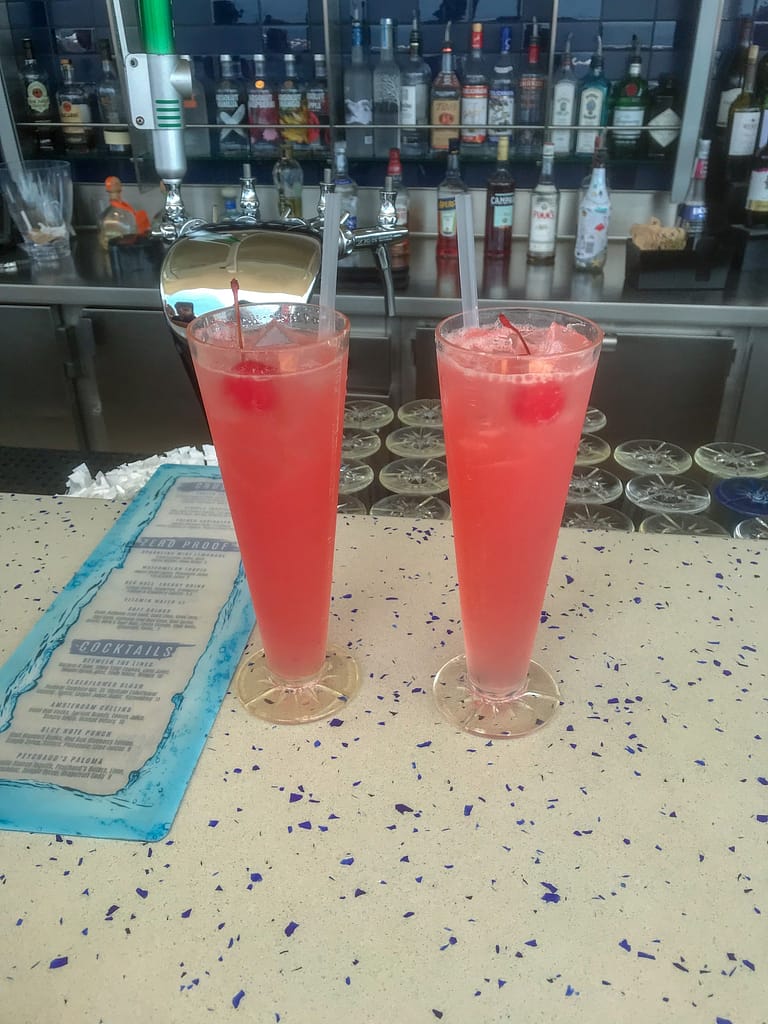 Entertainment
As with every cruise we have been on, the entertainment was mostly excellent. From full production evening shows, to the house bands, guest entertainers, quiz's and much more there was plenty on the go and Sue was a fantastic cruise director, we really don't know where she got her energy from!
The Retreat
We didn't use the Spa facilities on this cruise and very rarely do. Whilst having a relax and a massage etc are great, I believe that they are too pricy to warrant the spend. I have also previously experienced a 'hard sell' for ancillary purchases (not Celebrity) that left a bitter taste.
Shore Excursions
Always a difficult one as booking directly with the cruise line before or during the cruise can be expensive. We tend to only book one or two 'headline' tours and then amble around the local area for the rest of the ports visited. For instance, on this cruise, we went on a snorkelling excursion out to the Barrier Reef through the ship. The main reason was we were at anchor and the boat came directly to us to take us to the reef. It was expensive, but worth the money as it was a trip of a lifetime and something we probably won't be able to do again.
The obvious downside of booking non-cruise line tours is that if you are unable to get back to the ship before sailing, they won't wait for you. That could turn into an expensive decision and would probably ruin the whole cruise for you.
Other aspects of the cruise
There are plenty of other areas onboard available to you, however these we tend not to use. The casino is huge, the shops are plentiful if not expensive (some of the sales were good) and there are the ever present photographers around the ship. We occasionally have one taken of us together on a cruise but didn't this time.
Conclusion
A really poor start with embarkation in Sydney but soon forgotten once we got the cruise underway.
We love the Celebrity brand, it has delivered exactly what we wanted on both occasions we have cruised with them.
Already looking forward to the next one, half the fun of cruising for me is the planning and expectation, bring it on!