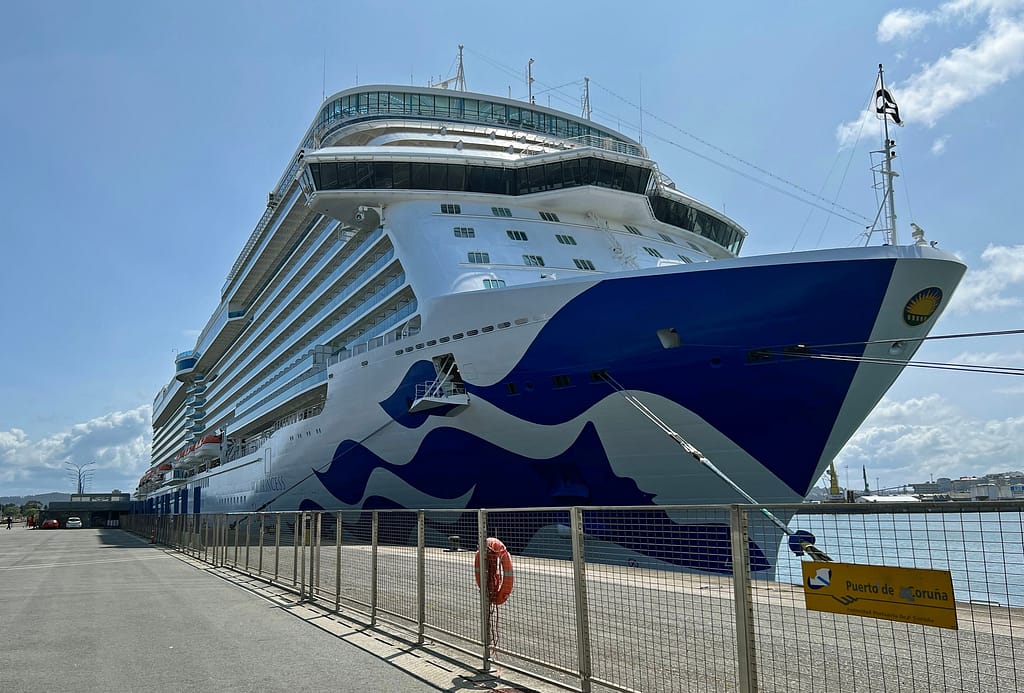 Overview
Much excitement for my wife (Lisa) and I as we had been looking forward to our first cruise of 2023, a second cruise onboard Sky Princess. We were lucky enough to join her on one of the 'Seacations' post Covid where we sailed from Southampton down the Bay of Biscay, turned, and returned to Southampton!
We were joined on this cruise by Lisa's 89 and 85-year-old parents, veteran cruisers who had not sampled Princess Cruises before.
We opted for the 'Princess Plus' package as we always prefer to have as much paid for in advance and avoiding the 'nasty surprise' bill we would otherwise get from drinks, crew appreciation (gratuities or tips) and Wi-Fi.
Pre-Cruise Stay
We decided in advance of the cruise to break the journey to the port up which meant a more leisurely trip to Southampton on a late Friday afternoon, staying at the MacDonald Botley Park Hotel & Spa on the outskirts of Southampton.
A decent if not spectacular hotel but ample for our needs and allowed us to have a leisurely start to the boarding day.
Weather
In the couple of weeks leading up to the cruise, Spain had been having an early season heatwave with temperatures up to 40 degrees. This had well and truly gone by the time we got to Spain and in fact we had mainly rain or overcast conditions for most of the week. Towards the end of the cruise (Thursday and Friday) we eventually saw some sun, but the temperature was not great and I would guess they were below average for the time of year. Unfortunately, you can book a cruise but not the weather!
Itinerary
Saturday 6 May – Southampton
Sunday 7 May – St Peter Port, Guernsey
Monday 8 May – At Sea
Tuesday 9 May – La Rochelle, France
Wednesday 10 May – Bilbao, Spain
Thursday 11 May – La Coruna, Spain
Friday 12 May – At Sea
Saturday 13 May – Southampton
At the time of booking we didn't realise the first day of the cruise would be King Charles III coronation day, several events were planned onboard and lots of guest entered into the spirit of the day by dressing up in various coronation clothing or headwear.
Visits
We decided in advance that we would not take any organised trips during the cruise. This was no sleight on the tours offered, we just wanted to freestyle in port, bearing in mind the mobility of my in-laws.
St Peter Port, Guernsey. A tender service into the quaint port area, with a short walk into the centre. There was a very reasonably priced market, selling a variety of products from food to local art.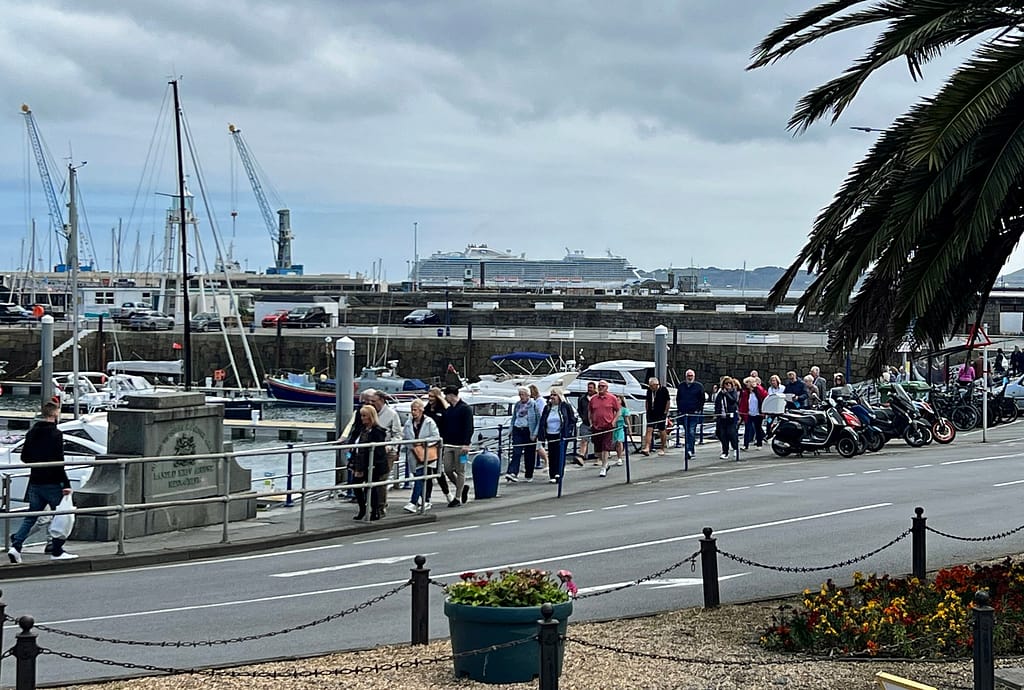 La Rochelle, France. I decided not to go ashore here as I had previously visited the port when serving in the Royal Navy. Lisa and her parents however enjoyed their time ashore.
Bilbao, Spain. A well organised coach shuttle service into the city centre, around ½ hour each way. Not a great deal to do here other than a walk round the shops, with the Guggenheim Museum being the centrepiece of the city.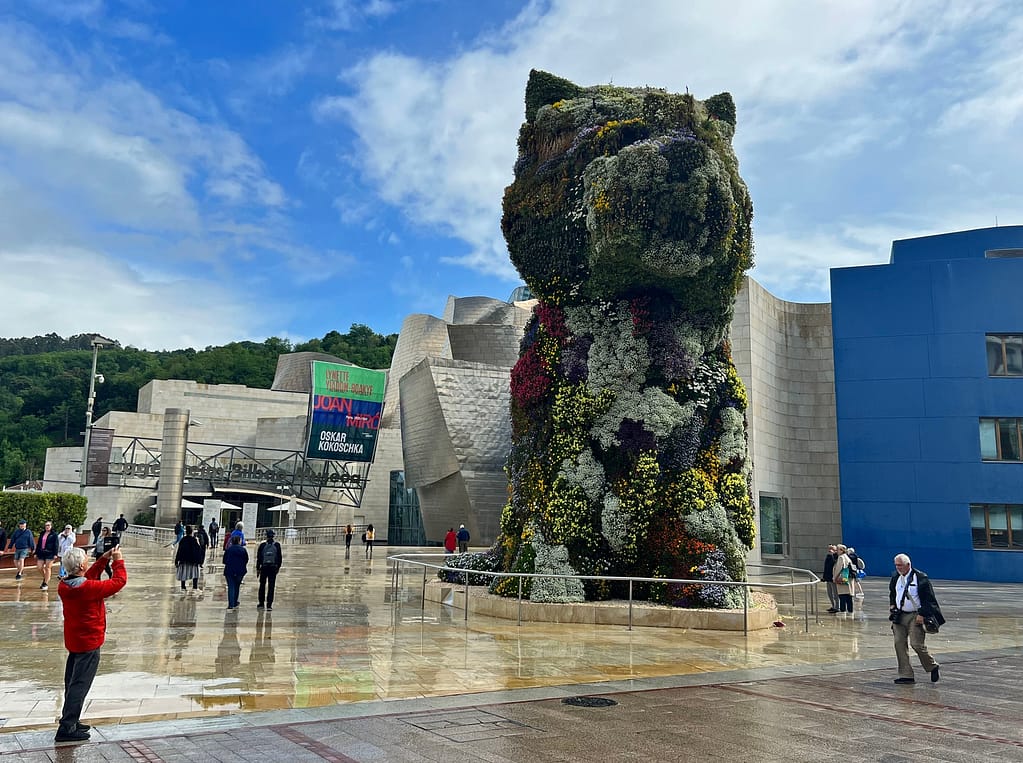 La Coruna, Spain. We berthed really close to the city centre which made for an easy walk to the main area. A lovely main piazza allowed us to stop for a wonderfully strong cup of coffee before a trek around the plentiful shops.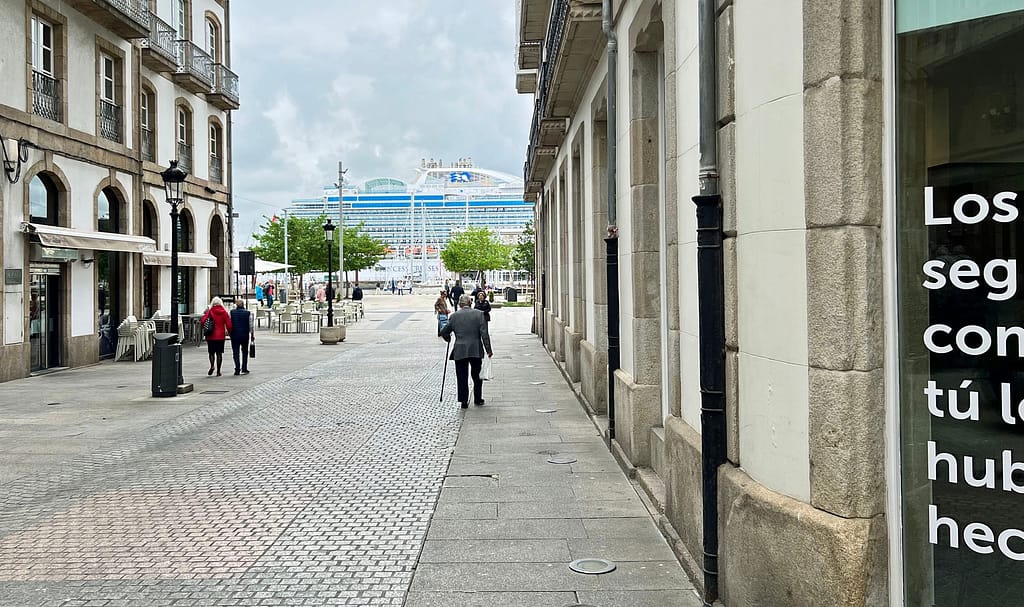 Ship Stats
Guests: 3660
Guest Cabins: 1830
Crew: 1346
Built: October 2019
Currently the newest of the Princess fleet, this is a big ship. We were at full capacity, and it showed at times with the ship 'feeling' busy during the daylight hours, particularly when weather was not good, and most people were below decks. This was particularly noticeable in the more popular areas of the ship, the piazza, bars, lounge spaces. As a couple finding seats was ok but more difficult looking for 4 seats meaning there was quite a lot of standing around in the evening ready to pounce when seats became available! This is not a complaint, just an observation.
Staff
As we've always found on cruises so far, the staff are the stars and this was no different on Sky Princess. Our stateroom attendant, Abell, was brilliant and attentive and showed great pride in looking after our stateroom.
Other notable stars on the ship were the staff at our favourite bar, Bellini's, particularly Elvis and Jafferson and our favourite steward was definitely 'Clever'.
Waiting staff in the main restaurants were also good, with particular note for the excellent service in Sabatini's.
Stateroom
We opted for a deluxe balcony, which allowed a little more space than the standard balcony at no extra cost. Really enjoyed the stateroom; neat, tidy and in good order with plenty of space for two. I have now started to query whether a balcony is needed (barely used it at all due to the weather) and I think I will look closely at future cruises whether we really need one.
Public Spaces
As you would expect of such a relatively new ship (launched just prior to Covid-19 paused the world), Sky Princess was in very good condition and had also just completed a short dry dock maintenance period in Rotterdam. Plenty of room on the ship but as said earlier, with everyone below deck it felt cramped in some areas of the ship at peak times.
The pool area was large but again due to the weather we only spent limited time there and I'm guessing would have been very crowded had the weather been good.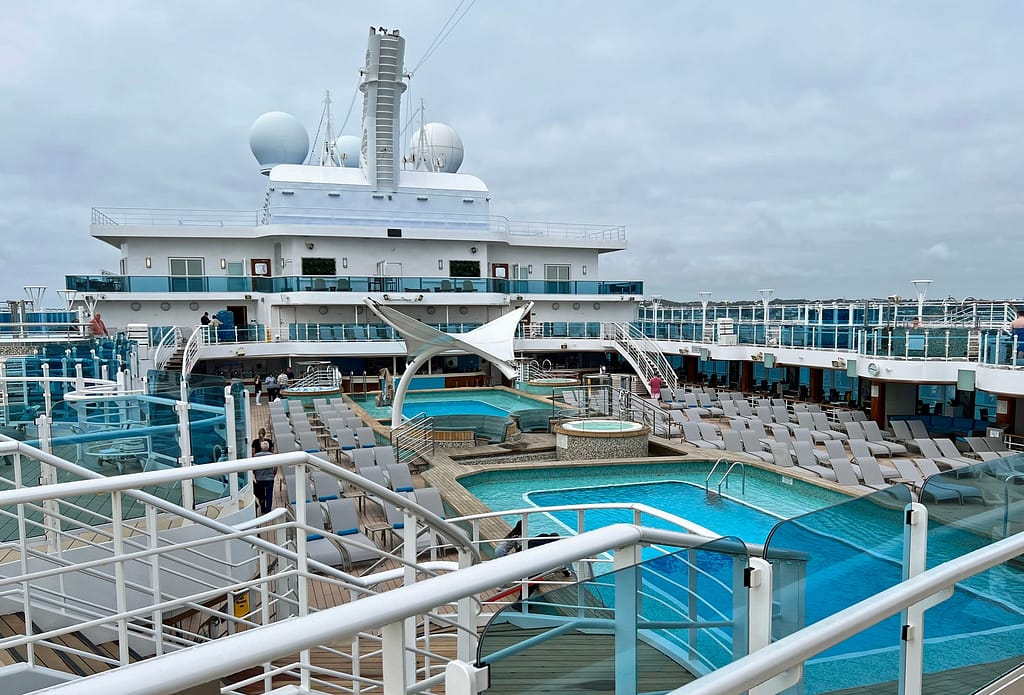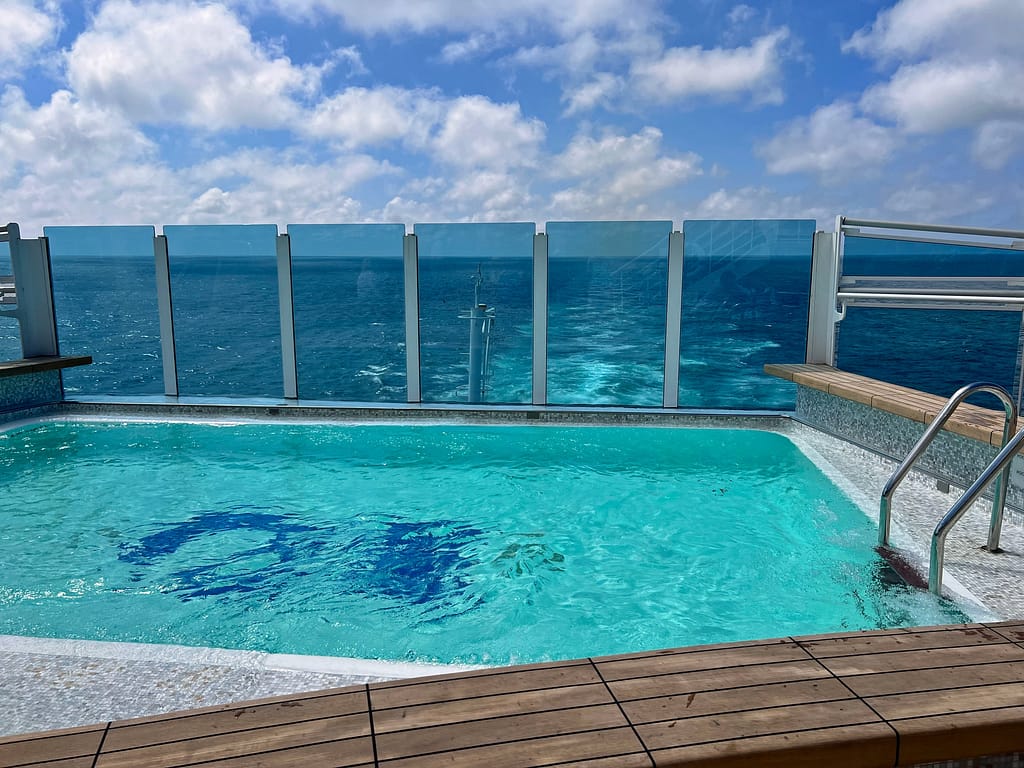 Food
Excellent as far as we were concerned. We used the following restaurants at mealtimes:
Breakfast – World Fresh Market, Cielo Dining Room
Lunch – World Fresh Market
Dinner – Cielo Dining Room, Soleil Dining Room, Sabatini's
We only used one of the speciality restaurants, Sabatini's, as we usually find that the main restaurants are adequate for us. It was however Lisa's birthday while we were on the cruise, so we made a very worthwhile visit to Sabatini's for an truly excellent meal.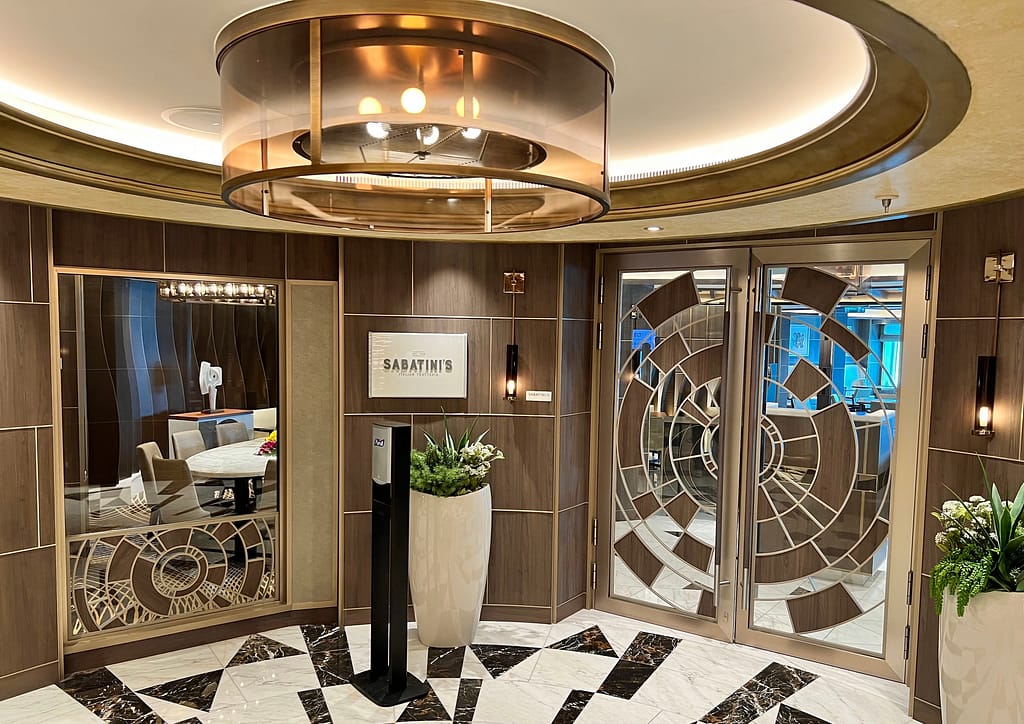 Our biggest issue of the week was on the first night at the Cielo Dining Room. I had pre-booked a table for 4 at a particular time and on arriving 10 minutes prior to the booking the queue for pre-booked was out of the dining room and up the stairs. It was immediately clear that this would involve a significant wait and with a mobility challenged 89-year-old father-in-law, standing in a queue for an extended period of time was not an option. We had no choice than to go to the World Fresh Market to eat as the other dining venues were by now all booked. We did feed the issue back to the guest services who were very apologetic.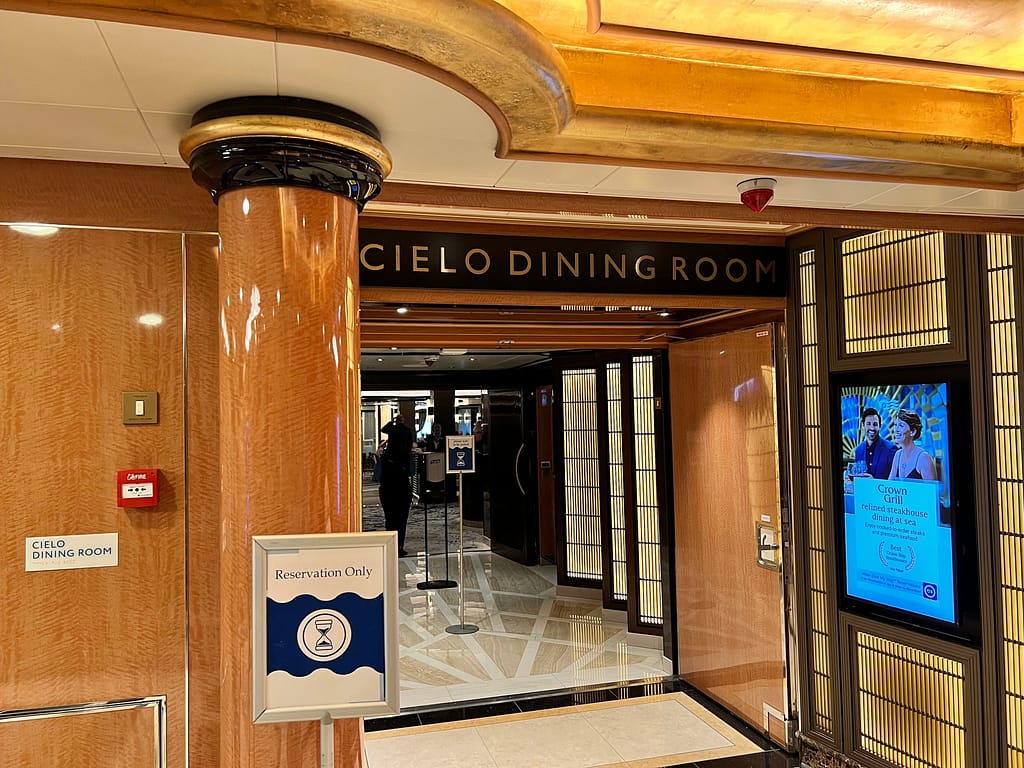 Bars
We do find it difficult to rate bars on differing ships as we absolutely love the 'Martini Bar' on Celebrity ships. We really didn't find a bar on Sky Princess that felt 'seatable', i.e. we either ordered at the bar and sat at a seating area, or ordered from the seating area via the app.
Note: Absolutely loved the 'Dirty Banana', very moreish and responsible for most/if not all of any weight gain from the cruise🤣
Entertainment
Our experience from previous cruises was the evening Theatre entertainment was generally not to be missed. This cruise was no different with three excellent production shows, namely "Rock Opera", "Five Skies", and "Spotlight Bar" and the tremendous singing voice of Tom Ball, a recent finalist on 'The Voice'. We didn't bother with the comedians and chose to do other things with our time while they were in the theatre.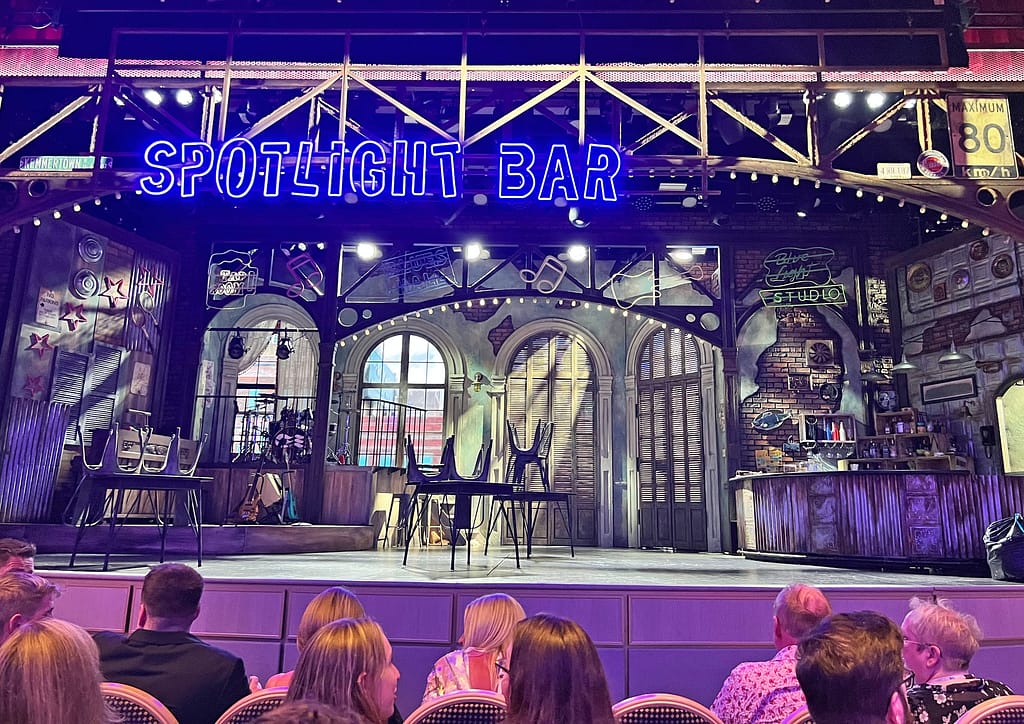 Medallion Class (Medallion and App)
As this was our second cruise on Sky Princess, this was the second time we had been able to use the Medallion and App. Personal opinion is that I like the medallion for its ease of use, it's nice to approach your cabin and the door already be open or use it to order/purchase onboard, but I know from talking to others my view is not universally agreed with.
The App too can be a bit hit and miss and particularly ordering food and drink from the app when seated in busy areas of the ship can be problematic. On a couple of occasions, we ordered drinks through the app whilst seated at the Piazza and they never arrived.
Guest Services
I only had reason to visit guest services twice during the cruise. One was outlined earlier after our opening night experience with queues at the Cielo Dining Room.
The other was because prior to the cruise I had ordered a decoration package for our stateroom for Lisa's birthday. On arrival at our stateroom on initial boarding I was told that the ship was no longer doing this package. The excellent 'Marcio' confirmed this was the case and arranged for the money I had paid to be refunded to our account as well as very kindly organising flowers a several gifts to our stateroom.
Very impressed with the way our two issues were dealt with, not always the case with other cruise line guest services departments.
Conclusion
A very enjoyable cruise all in all, on a very impressive ship with a good crew.
The weather was not on our side unfortunately but that happens.
My only negative apart from the couple of issues we had which I have outlined above was the seating issues in the public areas below deck when all/nearly all the 3660 guests are below deck. This was exacerbated for us with having elderly travel companions so would not have been such an issue for many.
Would I go back to Princess, hell yes, one of our favourites, but Celebrity still holds first place!