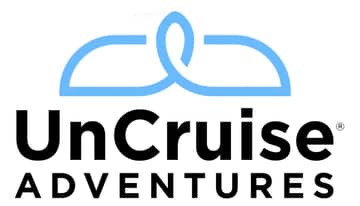 Fewer Spaces and Open Spaces. Sailing Since 1996 and celebrating 25 years of adventure in 2021.
Alaska was the birthplace of UnCruise Adventures and it continues to be wide open for exploration. Almost 25 years later, innovation continues to be at the core of our motto. We're serious about your fun and driven by a commitment to leaving the charted course and really experiencing what the world has to offer. UnCruise Adventures operates from its offices at historic Fishermen's Terminal in Seattle, Washington and in Juneau, Alaska.
Working together, we've learned a lot along the way! We're proud to have shared this wild world with so many adventuresome guests. See the history of our journey.
Our Mission
To provide our guests an enriching adventure travel experience and inspire an appreciation of local cultures and the natural world.
We understand that ecosystems are fragile yet important environments. And we know first-hand the impact our adventures have on sustaining local communities. One of the key components of our company's mission statement is to actively promote environmental protection through education, actions, and initiatives that promote responsible travel.
From the young to the young-at-heart, and hailing from many different places and walks of life, our guests share unique points-of-view and experiences on board. They find commonalities and create lifelong friends.
Over 20 Years of Uncompromising Success
We started cruising in Alaska with just one yacht, but since, we've grown up a bit—more ships, new destinations, a broader range of itinerary choices—but what hasn't changed is the heart and soul of who we are and what we offer you. Memorable adventures in jaw-dropping scenic places. It's the people, the activities, the spirit of adventure.
We create unparalleled value. From your very first inquiry, expect personalized service and expertise—and a host of benefits that make us unique.
Company Culture
A company's culture, core values, stance on discrimination, how we treat one another—it all matters. At least we think so. Get to know us and become an UnCruise Citizen.
UnCruise Adventures denounces all forms of racism, bigotry, and discrimination. We stand in solidarity with our employees, community members, and leaders in the fight to end systemic and passive racism, social injustice, and violence against the Black community and all who suffer from racism.
Three of our company's core values are "Do the right thing," "Be good to each other," and "Get a little better every day." These words are a start, but it is never enough to just say it—we must live it! We commit today and every day to learn, support, and play an active role in dismantling racism, systemic oppression, and discrimination in our world.
The UnCruise Citizen
The UnCruise Citizen is all of us—guests, crew on board, and our office team. We cherish exceptional experiences in nature and the unique stories we share with one another. We embrace the diversity of humanity just as we embrace the mosaic of nature.
We As UnCruise Citizens Have Rights
To an experience free from discrimination and unpleasant behavior, whether racist, sexist, ageist, or otherwise
To celebrate who we are
To articulate concerns without fear of judgment
To resolve disputes and misunderstandings in a safe space
To experience nature in its wild and pure form
The UnCruise Also Has Responsibilities
To hold ourselves accountable for our words and actions
To speak up when we see our shipmates mistreated
To own mistakes and get a little better every day
To respect the environment and follow "leave no trace" practices
To respect wildlife and their habitat
To respect the cultural heritage of the places we visit and the people we travel with
At UnCruise Adventures we endeavor to do the right thing and be good to one another while leaving a small footprint in the areas we explore. We expect and invite all members of our community to do the same.
The UnCruise Citizen Policy is a commitment to each other, guests, and crew alike, that we will all strive for an unparalleled experience while keeping our shipboard environment free of disruptive or inappropriate behavior.
Our Core Values
Be good to each other
Get a little better each day
Make different mistakes
Do the right thing
Fleet
Website
UnCruise Adventures | Award Winning Small Ship Adventures
Phone
International Toll Free – 001-888-862-8881
Email
Sales Inquiries: sales@uncruise.com
Group Inquiries: groups@uncruise.com