Oceania Cruises, the world's leading culinary- and destination- focused cruise line, has announced it will host its first annual 'Culinary Masters' Cruise' aboard Marina in October 2024.
The ultimate cruise for food lovers, this exclusive sailing will be hosted by Oceania Cruises' two Master Chefs of France, Alexis Quaretti and Eric Barale, and offers the perfect opportunity to learn, to taste, and be immersed in the culinary arts.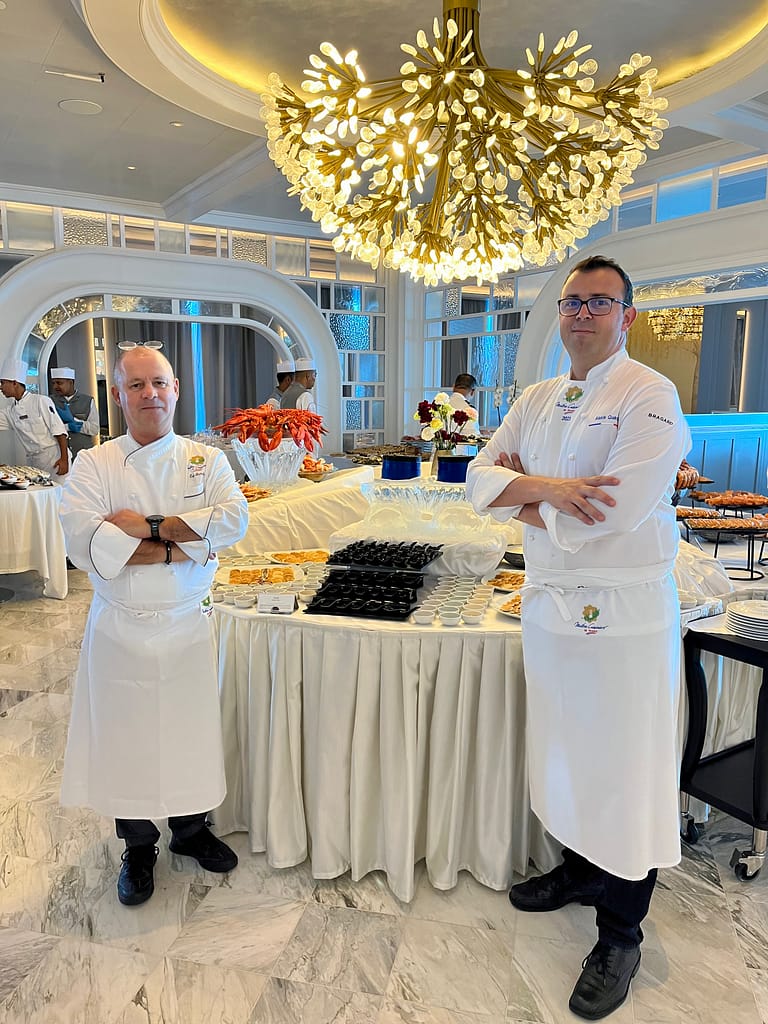 The 1,250-guest ship will sail from Valletta, Malta, to Rome (Civitavecchia), Italy, on October 16, 2024, calling at ports in Croatia, Greece and Italy, giving guests the chance to explore local cuisines ashore as well as on board.
"Oceania Cruises is a cruise line built by foodies, run by foodies, for foodies," commented Frank A. Del Rio, President of Oceania Cruises. "Since our launch 20 years ago, we have put food at the heart of everything we do, so hosting our first-ever Culinary Masters' Cruise is a natural evolution for us. This special sailing gives us the chance to show our immense pride in being the only cruise line to have two of its chefs inducted into the prestigious echelons of the Maîtres Cuisiniers de France and the opportunity to share their wisdom, creative talent and fantastic culinary connections with our guests."
Marina and her sister Riviera were the very first true foodie ships in the world and are now joined by Vista, which was launched to global acclaim in May this year, and Allura, set to join the fleet in spring 2025.
Marina and Riviera have more galley space and more fresh food storage than any other ship, and Oceania Cruises has the highest percentage of culinary personnel devoted to the dining experience than any other cruise company.
To ensure the impeccable quality of each dish, the line has one chef for every ten guests; half of the crew on board is dedicated to the cooking or serving of food.
Marina, and her sister ship Riviera, were also the first ships ever to have an onboard cooking school.
Due to the immense success of the onboard Culinary Centers, the line has doubled the space of this on board its newest ships, Vista and Allura. 
The first Culinary Masters' Cruise is designed so guests can immerse themselves in true foodie heaven, whilst learning about Oceania Cruises' gourmet heritage and future from the talented culinary team.
There will be the opportunity to hear expert insights in onstage panel discussions and enjoy live cooking demonstrations from Chef Alex, Oceania Cruises' Senior Culinary Director, and Chef Eric, Vice President of Culinary, and their special guests. 
All guests will be invited to attend Oceania Cruises' legendary signature gala seafood brunch, usually only reserved for ship launches, and enjoy themed Chef's Market Dinners in The Terrace Café, which will use ingredients bought from local markets by the onboard culinary team, inspired by the destinations visited.
Plus, there will be the chance to purchase bespoke experiences available only aboard this sailing; including culinary tours in local ports and hand-on cooking classes, led by Oceania Cruises' esteemed culinary team; expert-led wine tastings on board; or an exclusive private dinner event.
"Oceania Cruises is already a proven leader in the culinary field, and we are excited to expand our already astounding offering with this exclusive cruise, which focuses on some of the finest destinations and cuisines in the world, to make this the ultimate cruise for food lovers," commented Chef Alex.
The itinerary of the Culinary Masters' Cruise is as tantalising as the cuisine which will be served on board.
Sailing from Valletta, Malta's historic capital, which has myriad international connections through London, Frankfurt, Munich and Paris among others, Marina will have a day at sea before launching into a spectacular menu of Mediterranean and Adriatic ports of call: beautiful Kotor, Montenegro; Croatian gems Dubrovnik and Split; charming Bari, Italy; the Greek ports of Corfu and Katakolon; and then onto Italy, for the final day in foodie-heaven Naples, before finishing Rome (Civitavecchia).
simply MORE™
Oceania Cruises offers travellers simply MORE, with virtually everything included in the voyage fare: free roundtrip airfare; free airport transfers; a generous shore excursion credit of $800 per stateroom to be spent on tours of their choice; and a comprehensive beverage package available during lunch and dinner at onboard restaurants featuring dozens of vintage Champagnes, premium wines and international beers.
Created to elevate the guest experience, simply MORE means travellers receive the greatest value in luxury cruising.
For additional information on Oceania Cruises' small-ship luxury product, exquisitely crafted cuisine, and expertly curated travel experiences, visit OceaniaCruises.com, call 0345-505-1920, or speak with a professional travel advisor.
Source: MMGY Global
Images: © 2023 Oceania Cruises Ltd.